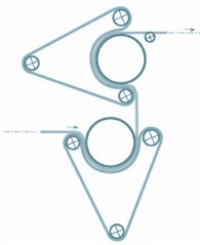 Our Compacting Felts are used in Compactor machines. The Endless Needled Felt is used in Shrinkage of the knitted fabrics. Made by blending our special Nomex fiber, Polyester fibers and Wool.
Compacting Needled Felts are used on the following machines : Ferraro, Monti Muzzi, Sautex, Sperotto, Poongkwang, Monfortl, Lafer etc.
Features
Optimum density
Smooth texture
Shrink resistance
Material: Nomex, Polyester, Wool
Thickness: 18mm – 21mm.
Density: 8000g/m2 – 8800g/m2